Hey Financially Aware Friends,
It's Finance Friday! You know what that means, Time to take a break (just a short one) from Fashion to be enlightened about

Personal Finance

. This week I want to shed light on what is on the horizon for

401(k)s

.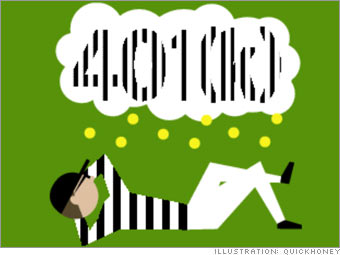 Ok, so for those of you that don't know what a

401(k)

is, in the simplest terms - a 401(k) is a type of tax-deferred retirement savings account made popular in the early 1980's for working Americans. They became widely adopted when employers began to phase out traditional Pension Plans as a means for retirement. 401(k)s relinquished employers of the burden of handling employee's retirement savings, leaving the decision solely on the employee to where their savings was to be invested (usually between a mix of mutual funds, stocks, bonds and money market investments). Many of whom who know absolutely NOTHING about investing and even less about the stock market.
I know the first thing that most people hear when they begin working is "401(k)" in some way, shape or form. But like anything else, a 401(k) is an investment vehicle (for your retirement) and what do most people know about investing…

NOTHING

. Now-a-days most employers don't have anyone in place to explain what you are doing when you set up a 401(k). They just lead you to believe that it's a good idea to do it and you'd be a fool not to, right? Well, I say you're a fool if you do it blindly. I say that because when investing, it's best to speak to an expert, a licensed professional before just doing it. Think about it, if you need Brain Surgery – you seek the advice of a Brain Surgeon. You need your car fixed; you rely on the expertise of a Mechanic. So why do people think they can freely invest their money without the assistance of an expert just because someone told you to?
I just want to know, what do you

REALLY

know about this 401(k) that you've invested in or plan to invest in? I'm writing this because I want to inform you about what is about to happen with 401(k)s on

November 1

s

t

.

On November 1, 2011 the United States Department of Labor will require BY LAW 401(k) service providers to reveal to their clients that they are being charged a

fee

to manage their 401(k)!!! The majority of 401(k) participants have no idea they are even being charged a fee or what the effects of these fees can do to their retirement funds. These fees can eat away a significant portion of the participants' 401(k) retirement plan, leaving them with painfully less money to fund their retirement and losses they will undoubtedly feel.
Here's a quick breakdown of the fees associated with 401(k)'s:
Plan Administration Fees – This is made up of the daily activities associated with managing your 401K. This could range from recordkeeping to daily valuations and online transactions.
Investment Fees – This is where the bulk of your money goes! This is geared towards managing your plan's investments. These fees may not be apparent immediately to you because they are not specifically identified on your investment statements. You pay for them in the form of an indirect charge against your account because they are deducted directly from your investment returns. Your net total return is your return after these fees have been deducted. These fees are basically:

commissions

, investment advisory fees, and

account maintenance fees

.
Individual Service Fees – These are primarily directed at the participants who take loans out on their 401Ks and the activities associated with handling that.
So How Much could These Fees

Cost You

?
"Assume that you are an employee with 35 years until retirement and a current 401(k) account balance of $25,000. If returns on investments in your account over the next 35 years average 7 percent and fees and expenses reduce your average returns by 0.5 percent, your account balance will grow to $227,000 at retirement, even if there are no further contributions to your account. If fees and expenses are 1.5 percent, however, your account balance will grow to only $163,000. The 1 percent difference in fees and expenses would reduce your account balance at retirement by 28 percent."
Now, I don't know about you, but I don't know anyone who can afford to lose

$64,000

upon retirement or any other time in life! At this point in life most of the initial American Workers to invest in 401(k) plans are beginning to retire and they are experiencing first-hand the pitfalls associated with 401(k)s and how they fall short for retirement survival. According to a Feb 19, 2011 article in the Wall Street Journal, "the median household headed by a person aged 60 to 62 with a 401(k) account has less than one-quarter of what is needed in that account to maintain its standard of living in retirement." This according to a study commissioned by the Journal, and conducted by the Center for Retirement Research at Boston College. Something to think LONG and HARD about! You don't want to find yourself in this position when you reach retirement age.
I just wanted to illustrate the pain of what being unaware can do to you and your future. I hope I gave you something to think about. Come back to "What's More Important Than Fashion?"
for the follow up to this post. We'll discuss what you can do to make sure you're equipped to review your plan and the fees associated with it to see where you stand and what other things you can do to prepare for retirement that don't eat up all of the money you invested.
Oh, before I go, I wanna let you guys know that

September
is:
Life Insurance Awareness Month
Life Insurance has so many facets to it, far beyond simply providing a Death Benefit to your beneficiaries. Did you know that Life Insurance is an investment tool? Let me know if you're interested in knowing ways that Life Insurance can benefit YOU!